This timelessly charming city is the largest city in Turkey. and will give you major Arabian nights vibes. Here are a few interesting facts you might not know about Istanbul, so read on.
If you're headed out on a trip to Turkey, then you must already be aware that your trip is not going to be complete until you pay a visit to Istanbul. The gorgeous city straddles the two sides of the Bosphorus Strait, and you can find many busy markets throughout the city. Not just that, the city is full of magnificent mosques and other historic buildings that will make you feel as if you're in a Disney movie; most probably Aladdin! The city is interspersed with famous landmarks like the Blue Mosque and Hagia Sofia. A visit to Istanbul is the visual treat your eyes are going to love. So, if you're planning a trip to Istanbul, here are a few facts about the city that you must know.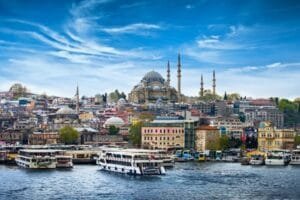 Istanbul, Turkey
1. Istanbul has been the capital of several empires. Not just any Empires, but the three major ones: the Eastern Roman Empire, the Byzantine Empire, and the Ottoman Empire. So really, it is no surprise that the city has been known by many names throughout history. It started out as Byzantium and got renamed Constantinople until it finally got the name Istanbul in 1930.
2. We're sure you probably did not know this, but Istanbul was built on seven hills to match the seven hills of Rome. But, if you're thinking that this is some sort of geographical coincidence, it is not! The Byzantine Empire made a deliberate decision to build it like this so that they could proudly proclaim it to be the 'New Rome.' The walls of the city surrounded the seven hills, just like they did when in Rome.
3. The world's second oldest subway is located in Istanbul. It was constructed in 1875 and it is around 573 metres long. It is known as The Tünel and was also the first underground train in continental Europe.
Istanbul is home to the most mosques in Turkey.
4. The Blue Mosque, which is Istanbul's number one attraction, draws 5 million visitors annually and is a work of art. It is also located in the historic areas of Istanbul and has been the subject of religious hostility when it was built.
5. The city is home to the most mosques in Turkey. It has around 3,113 mosques and includes the historical Sultanahmet Mosque and the Süleymaniye Mosque.