Embrace Sophistication and Charm With This Brand, Which Features the Ideal Attire For Any Beautiful Occasion. Go On and Give It a Read.
Fashion is not only limited to dressing up while stepping out in the world. It is a world where fashion transforms into a personal expression of life's most cherished moments.  Amid a sea of fashion trends coming back over and over again, novelty is what we all look especially when it comes to apparel. Your fashion choice grabs not just attention but also the spirit of the gathering, whether it is a little soirée or a large celebration.
And if you're a fan of impressive ensembles, you've reached just the right place. To find admirable options for wardrobe adorns, look no further than Raishma. From printed floral dresses to don in summer to gorgeous robes awning your body on a special date night, the brand has mastered the couture vista. Discover how this brand encourages individuals to celebrate their uniqueness through bespoke outfits. In a world that races past milestones, these creations encourage us to pause, embrace the present, and relish life's artistry in all its forms.
This line of patterned dresses by Raishma Islam was created to provide you with the ideal range of looks to boost your confidence. The ideal wardrobe staples will make real-life fun and fancy, and whether it's a day of shopping or supper with friends, Raishma's line of patterned dresses has you covered! Elegant, vibrant, and figure-flattering designs that boost your confidence. So, let's unveil the tale of this brand that has perfected the complex dance of occasion-based couture, skillfully fusing elegance, sentiment, and creativity.
Get ready to dive into the pond of floral creativity with the brand's meticulous craftsmanship. We all know that dresses with floral prints and vibrant hues are ideal for the summer! Not just this, but these dresses will give you a deliverance of styling them in your own chic way. These outfits transcend tradition while preserving its timelessness and dressing the person rather than simply dressing them. They become an extension of their feelings, ideas, and goals.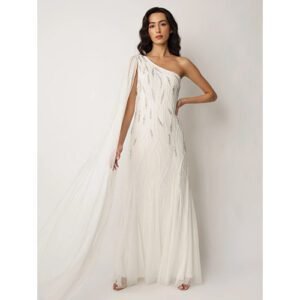 The most attractive wedding dress designs for all body types may be found in Raishma's inventory. You may find everything you desire, whether you want a classic, white bridal gown or one with a pop of colour. Finding the ideal wedding gown for your big day no longer has to be difficult. Raishma's bridal collection is an impeccable amalgamation of contemporary designs and traditional craftsmanship delivering a bridal outfit that looks nothing but pure bliss.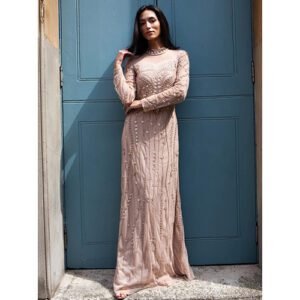 Raishma's beaded dresses offer an ensemble of textures and colours, embracing your physique with grace and sophistication. From opulent evening galas to intimate celebrations, these dresses are the epitome of timeless charm, designed to make you stand out on life's most precious occasions. These gowns surely have the potential to make heads turn and surge your value in a room full of people.