Bad Boys For Life actor on Oscar night, we saw a new side of Smith. He got so offended that he went up to stage and slap Chris. This moment became a highlight for Oscar night and the meme world. But, at the end of the night, Will Smith make a response about the displeasing moment, this dramatic event did not end. Want to know more about this chaos, keep on reading!
Will Smith is an American actor who did the movie The Pursuit Of Happiness, Collateral Beauty, Aladdin, and the oldest movie Men In Black. He won many awards for his work such as Golden Globe Awards, Grammy Awards, and recently Academy Awards. Will Smith entire family is in the Hollywood industry which includes, Jada Pinkett Smith, Jaden Smith, Willow Smith, and Trey Smith.
Will Smith's wife Pinkett Smith was spotted in Oscar2022. During that time Chris Rock was hosting the Oscar with his humorous line on every celebrity. Though his humour lines on Pinkett Smith made Will Smith slap Chris Rock on the Oscar stage, which was Shocking!! The clip even showed that Chris Rock was shaken from his position, and then continued the show.
Oscar's show got so intense, that Will Smith in rage spoke "Keep my wife's name out of your fucking mouth! The audience got so serious, that Will Smith's action became a highlight on Oscar night. In his Oscar 24th Academy speech, he mentions "Love makes you do crazy things".
After Will Smith slap Chris Rock, he was awarded as best actor.
Why did Will Smith become so reactive over a joke? Chris Rock made a joke about Smith's wife Pinkett Smith about her bald head. She was struggling with "Alopecia" which led to hair follicles, but she carried herself boldly at the Oscars. Will Smith was offended at his roasting on his wife. He compared Pinkett and spoke, he could not wait to see Pinkett Smith in G.I Jane2.
It was shocking  Will Smith did not even apologize to Chris Rock, after slapping him for doing his job. Chris Rock fans mentioned you will be the most infamous Oscar moment ever, and you took it like a boss. Chris Rock kept his work professional.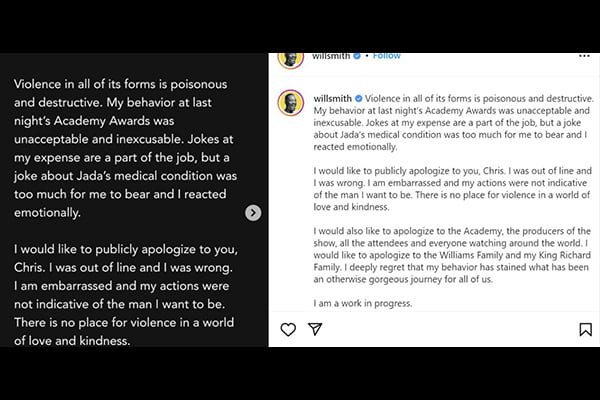 Will Smith publicly admits his actions and apologies to Chris Rock.
Will Smith right after the Oscar made a post apologizing to Chris Rock. He mentioned, my behaviour at last night's Academy awards was unacceptable and inexcusable. Jokes at my expense are a part of a job, but I could not help when it was about Jada's health condition. I would publicly like to apologize to you, Chris. I was out of line; I do not want to be this man.
Academy award made an official post mentioning, the academy does not allow violence of any form. Will Smith made an apology post, referring to the producer, family, and Chris Rock. I immensely regret that my act stained on Oscars which could have been a gorgeous journey for all of us.
This Oscar 2022 between Will Smith and Chris Rock, led to huge chaos. It was even announced by Los Angeles Police department, Chris Rock declines to proceed with the press charges against Will Smith. For, now the cold war is still there as Chris Rock publicly made no response.