For the first time, Ladakh hosts a frozen lake marathon at Pangong Tso. The marathon will be held on February 20, 2023.
India's first frozen-lake marathon at Pangong Tso, Ladakh at a height of 13,863 ft will be held on 20 February 2023. The army and the ITBP (Indo-Tibetan Border Police) have been roped in to implement a "proper action plan" for the event, according to government officials. This 21km long marathon will start from Lukung and ends at Maan village. 75 selected athletes from all around the world will participate in the marathon and compete against each other. Giving them the chance to attempt to break the world record for the highest frozen-lake run.
The frozen-lake marathon is called the "Last Run" to highlight the issue of climate change. This event is organised by the ASFL (Adventure Sports Foundation of Ladakh) in partnership with the Ladakh Autonomous Hill Development Council Leh, the Leh District Administration, and the Tourism Department. All the necessary arrangements have been made for the success of this challenging run, which is being organised with a message of sustainable development & carbon neutrality in Ladakh. All stakeholders are on board. The army force and the Indo-Tibetan Border Police were also roped in to execute a proper action plan, said to the District Development Commissioner of Leh.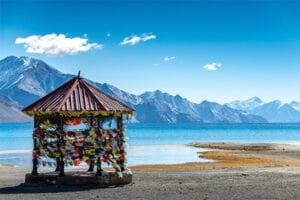 The Pangong lake spread along the border of India and China to 700 sq meters. This lake records a temperature of minus thirty-degree celsius during the winter season, freezing the saltwater lake. Tourists from all over the world visit Ladakh mostly in the winter season for Chadar Trek, which is located in Zanskar and snow leopard sightings, and we are expecting that the frozen-lake run/marathon will help promote tourism in other parts of Ladakh, especially in the Changthang region.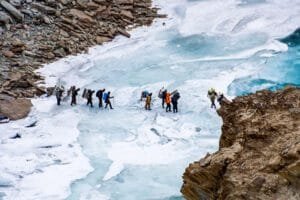 The initiative started by Prime Minister Narendra Modi "Vibrant Village Scheme" will help build habitats along the Line of Actual Control through tourism opportunities. The group of 75 selected athletes, including 50 outside of Ladakh. 4 international runners besides local runners who have represented the region at the national level are participating in the frozen-lake marathon. The devised SOP (Standard Opening Procedure) will be strictly followed at the event. 
"All the athletes, who are not from Ladakh, have to undertake necessary acclimatisation, including 3 to 4 days in Leh, to overcome high altitude sickness," the district development commissioner stated. The athletes will be subjected to medical checkups one day before the event, while the whole 21 km stretch will be covered by medical teams. He also stated that they are prepared for air evacuation in case of emergency. The recce of the whole 21-kilometre lake stretch is being undertaken jointly by the SDRF (State Disaster Response Force), the army and the Indo-Tibetan Border Police in close coordination with other stakeholders.